Dad's Club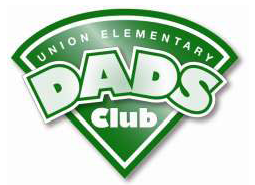 2019-2020 Dad's Club Officers:
President - Jake Webster
Vice President - Geordie Hester
Communications: Andrew Kuzmierczyk
Treasurer - David Beyer
Activities planned for 2019-2020:
Meetings:
All meetings take place at 7 PM in the Teachers' Lounge.
August 6th
September 3rd
October 1st
November 5th
December 3rd
January 7th
February 4th
March 3rd
April 7th
May 5th
Events:
September 25th (Rain date September 27th)- Jog A Thon
September 14th - Dads Club Campout (Rain Date September 21st )
December 12th - Winterfest
March 14th - 2 on 2 Basketball Tournament
April 11th- Egg Hunt
May 17th (Rain date May 31st)- Golf Outing (tentative)
Breakfasts:
All breakfasts will take place at 7:15 in the cafeteria, unless otherwise noted
October 30th- Fourth Grade
November 20th- Third Grade
January 15th- Second Grade
February 12th- First Grade
March 18th- Kindergarten (will take place at 8:10 AM)
April 15th- Pre School (will take place at 7:30 AM)
About Dads Club
The Union Elementary Dads Club has been around since the 1990s, and is represented by the "greatest group of guys" in Zionsville. We plan a number of fun, extra-curricular activities for Union's kids throughout the year, as well as work with the teachers and PTO to improve educational resources. Basically, we're all about the kids and having fun.
Our motto: "Be Glad You're A Dad!"
Membership
If you're a Dad and have a student at Union Elementary, you're a "member" of Dads Club. The extent of your involvement is up to you.
Informal Meetings
Informal meetings are generally held at Union on the first Tuesday of each month at 7 p.m. during the school year. We meet with Union Principal Jen Raycroft to plan our activities and make decisions on funding teacher requests.
Get Involved Today!
If you'd like to get added to our e-mail list, attend a meeting, or participate in any of our activities, contact Dads Club President Jake Webster or email us at
[email protected]

.
You can sign up for events at our volunteer site:
http://vols.pt/u5AfkG